As a professional marketer, one of the things I strive for the most is brand recognition. Everybody should know my company and keep it at the pinnacle of TOMA. But how far is too far?

Darling Daughter (DD) is 3 years old and is pretty darn smart for her age. I love kids at this age because their brains are like sponges that never get soggy. I never have thought much about the effect of advertising on DD until right before Christmas. Handsome and I had taken her out to eat at Applebee's. A few days later when Hubby was "doing the books" she pointed to the logo on the top receipt and said, "Let's go to Applebee's?" I was proud of her recognition of where we had gone, but just a bit uneasy.

Another example...HH and I have just started letting her watch tv shows on Noggin and the like. Before this, she either watched only PBS shows or educational videos like Baby Einstein or Disney movies. As we were watching Dora one day, commercials came on and she ran across the room and pointed to the advertised toy (I can't remember which it was) and said, "I have to have this! Please, please!" I'm not kidding!

At 3 are children able to understand that ads are supposed to make you want to buy things or are Mattel, Hasbro, Disney, etc. just sending subliminal toddler mind warping messages? ....Can I get them to build an ad that will make her clean her room?

A few weeks ago I went to a Marketing seminar for service companies. One of the topics was brand building. To prove the point of the power of a great logo/brand recognition, we were asked to name the companies that represented the letters of the alphabet. I got every single one right (go ME!) which proves the power of how permeating advertising messages are into our daily lives. Take the test, see how well you do: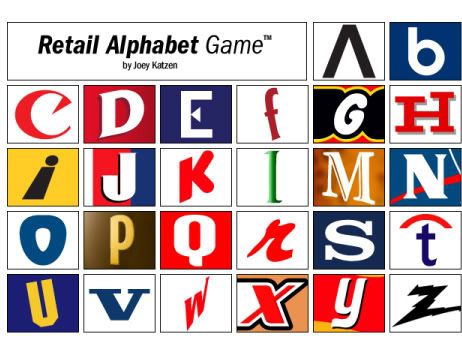 Want the answers? Here you go:
A:Saturn
B: ABC
C: Cannon
D:Glad (Dr. Pepper?)
E: Zales
F: Ruffles
G:Lego
H:Yahoo
I:Bic
J: Jif
K:Burger King
L:Google
M: Sam Adams
N:Nasa
O:Kinko's
P:UPS
Q:Dairy Queen
R:Walgreen's
S:Sony
T:Citi
U:Blockbuster
V:Volvo
W:Mountain Dew
X:Twix
Y:Lay's
Z:Zenith

So, there you go...